An alternative slant on a sophisticated look, this focuses on bold colours and is extremely versatile.
Starting with a clean base, apply a light moisturiser if your skin is dry, followed by a BWC foundation that matches your natural skin tone as closely as possible.The Beauty Without Cruelty new Ultimate Natural Foundations are ideal as they are water-based (ie non oily) and non-comodogenic, as well as being easy to apply and non-streak. If necessary, use a concealer on any blemishes or marks, then squeeze a little foundation on to the back of your hand and apply with a foundation brush or sponge starting from the middle of the face outwards. Don't forget to go under your chin and over your ears so that there are no evidence lines. Finally apply a light dusting of either loose or pressed powder to finish the base.
Now apply a blusher – choose a shade similar to the shade you are when you are warm but not too "red". Using the Angled Blusher Brush, load with a few dabs and then blow on it to remove the excess powder. Apply in a sweeping motion just under your cheekbone. Try to brush in one direction only towards your lips (but not that far!) - this gives a clean stroke of colour. Remove any unwanted colour with a clean brush. Beauty Without Cruelty Duo Pressed Blushers give you the option of a single shade or using the second shade to shape, shade and highlight.
Imagine your eye is divided as follows: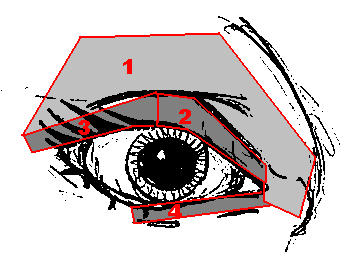 Take an eye defining pencil and sketch in a line round the outside of your eye (but close in) from the middle of the top to the middle of the base. For a more dramatic look take the line entirely across the top. Use bwc Mineral Powder Shimmers in three complementary shades from light to dark, such as Serenity, Vanity and Intrigue, Lust or Desire. Apply the "middle" shade you have chosen to section 2. The easiest way is to tip your head back slightly and use the Fine Blender Brush stroking the powder on gently. Try to keep the powder at the tip of the brush. Clean the brush on some tissue paper and load with the darkest shade. Apply to section 3 but extend beyond the end of the eye to emphasise your eyes. For section 1 it is easier to use a finger and very gently apply the palest shade. Apply more eye shadow near section 2 than section 3. Using a blending brush, blend sections 1,2 and 3.
For section 4 take a fine brush and lightly draw across your lid line with the medium shade. This will lighten your eyes and give you a fresh look. A coloured eye liner will work here too.
Finally apply mascara, either the bwc Full Volume or Ultimate will be best here as these will thicken and lengthen providing a more dramatic look.