Our new shorter wand allows for a steadier application and the best performance on your lashes every time. Now also designed with a click-to-close bottle, ensuring that your mascara will never dry out again.
Probably the most essential item in any woman's makeup kit, yet the bewildering selection of mascaras available makes choosing the one thats right for you very difficult. All lashes are individual, in terms of shape, length, thickness, brittleness, shade and so on, but the majority of us really just want a mascara thats comfortable, long lasting and with a 'medium' performance in a colour intense Black or Brown shade. Medium performance? That groomed everyday look which can be glamorised for the evening by adding a coat or two of a more volumising mascara at the end of the day, but not the exaggerated long lash look that gives the appearance of fake lashes!

There are three key elements that make for the perfect mascara, and these are the right combination of formula, brush and wiper. These three have to be carefully balanced and complement one another so that a mascara will achieve its promise. Each brush has to be selected for its performance with the formula, and for this to work, the wiper must only allow the correct amount of formula to be extracted for the design of brush.

The Mascaras


How to Choose a mascara
Waterproof mascara is a simple option for those who live life at pace, spend time at the gym exercising or swimming, or wear contact lenses - in other words any time there is a risk of mascara smudging through challenging conditions. Volume mascaras can create a more dramatic appearance, whilst a lengthening and thickening formula enhances a more 'natural' look.

bwc Ultimate Conditioning Mascara

Packed with plant extracts and natural waxes, this is a volume fibre free vegan formulation. It contains Wild Japanese Berry Wax collected by hand from a high mountain source which conditions the lashes and helps to keep them soft and pliable. It is lengthening and thickening whilst separating the lashes, and is easily removed. It is available in two shades Black and Walnut, the darkest brown shade.

bwc Full Volume Mascara

A lovely colour intense vegan formulation made with natural oils and waxes which condition the lashes, this lengthening and thickening formulation has been enhanced with added fibre to provide maximum volume. The mascara is gentle and conditioning and available in two shades, Black and Cocoa and is easily removed.

bwc Waterproof Mascara

A totally unique formulation that is "impossible" to make! The mascara is not only vegan and paraben free, a feat in itself, but also waterproof. When applied to clean dry lashes (or skin), after it has been allowed to dry, it will not wash off! A word of caution though, performance can be affected by the use of oil based moisturisers and cleansers which prevent proper adhesion to the lashes! The mascara will lengthen, thicken and curl lashes. Waterproof mascara is long lasting when properly applied and therefore suitable for all day wear, and for contact lens wearers. It is available in two shades, Black and Cocoa.

The Brushes
bwc Ultimate Conditioning Mascara Lash Lovers Brush - Special innovative multi sphere shape cleverly creates length and definition with shading effect and lash separation as well as increased coverage reaching the full length of every lash. The brush is made with Rilsan which is a material made from the Castor Oil Plant and entirely of vegetal origin.

bwc Full Volume Mascara Double Depth Brush - The extra dense soft hollow fine haired Double Depth brush maximises extension and thickness by closely coating each individual lash to its fullest extent delivering maximum formula every time onto the lashes.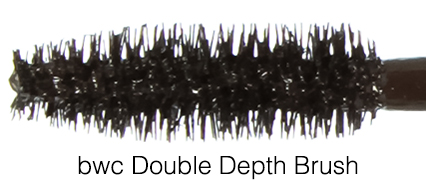 bwc Waterproof Mascara Curvy Contour Brush - Dense hair delivers volume whilst the shape helps to create curl by evenly coating the lashes at a controlled distance from the eye. The tapered end means that corners are easily reached, and it works for contact lens wearers, as it is less likely to 'miss' and touch the lens.


How To Apply
Always start with lashes that are clean, dry, and free from any moisturiser or makeup remover, open the eye wide and tilt the head downwards slightly. Load the brush by turning it in the tube and wiping off any excess. Never pump the brush as this pushes air into the tube and dries it out. Beginning with the upper lashes, place the brush at the roots and wiggle it left to right, whilst moving upwards and outwards. This ensures that the brush fibres get in between the lashes for even coverage. Repeat this motion two or three times, making sure to capture the lashes at the corner of the eye as well. Try to apply as few layers as possible as it can weigh the lashes down. Repeat on the lower lashes. Always allow mascara to fully dry to avoid smudging, especially waterproof formulas as these can take longer.